Samsung's AirDresser claims to kill 99.9% of viruses and bacteria and also removes odours and keeps your clothes fresh. AirDressers are all about one of the efficient way of revitalizing, deodorising, refreshing, and relaxing light wrinkles from clothes saving you from laundry runs or trips to the dry cleaner.
Samsung's airdresser would be one of the great additions in your wardrobe for which you can spend your money. It uses air and steam to remove dust, pollutants, and germs, and refreshes and also sanitizes clothes to make them grems free. You don't have to spray additional sanitizers.
Samsung says that the JetSteam present in the AirDresser sanitised clothes and helps to remove 99.9% of viruses and bacteria including influenza, adenovirus can sanitise any kind of cloth like soft toys, bedding, leather accessories.
How Samsung's airdresser works?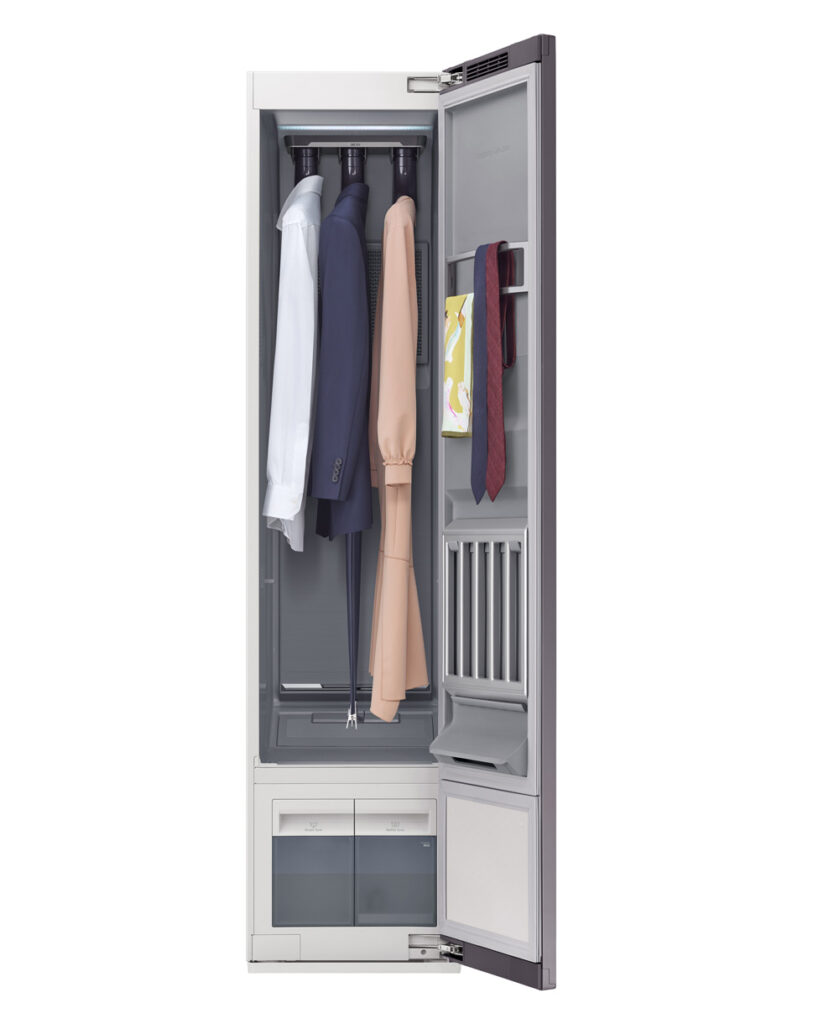 You will be thinking how it works? So here are a few steps through which you will get to know about its working.
When you hang the garment inside the unit then you have to start the cycle and then simply wait for a few secs for the system to run its course.
After the system starts, firstly the JetSteam starts sanitising the clothes by infusing heat deep into the fabric, eliminating viruses and bacteria, house mites, odor causing gases, and other harmful substances.
Now the Jet Air and Air Hangers start releasing powerful air to loosen and remove dust, but with minimum noise and vibration.
Then the Heat Pump starts drying the clothes at low temperatures so that clothes should not damage or shrink.
Final step is to use the Deodorizing Filter which will capture and reduce odor particles caused by sweat, tobacco and food and prevent them from building-up inside the unit to create lingering unpleasant smells.
Once this is all done, the Self-Clean technology sanitises, dehumidifies and deodorizes the interior of your smart AirDresser to make sure your clothes stay refreshed.
The airdresser comes with the property of notifying users whenever the unit needs cleaning, which is after every 40 cycles.
How you must be wondering what Samsung's airdresser's price? Its reviews etc? Given below are the answers of all your questions.
The cost of AirDresser Rs110,000/- you can purchase it from on Samsung's official online store Samsung Shop or on e-commerce portals Amazon and Flipkart whichever you like. Consumers will also get a discount upto Rs10,000/- and a no-cost EMI of ₹5,555. This great offer will be valid for 15 days only therefore grab the offer as soon as possible .
You can also check the Samsung's airdresser's review to get an idea before purchasing it. The AirDresser ensures that "clothes are groomed gently", to increase their lifespan by helping consumers avoid washing their favorite items too frequently, which leads to damage to the delicate fabrics.
The AirDresser also comes with AI-powered capabilities which provides the Home Care Wizard that remotely identifies problems and provides troubleshooting services.
Description of the AirDresser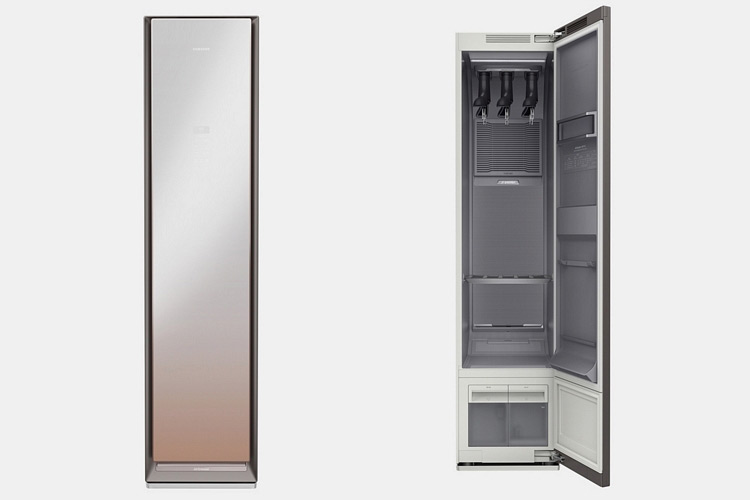 | | |
| --- | --- |
| Brand | Samsung |
| Function | Air Dresser |
| Color | Black |
| Warranty | 1 year on all parts excluding outer cabinet and plastic part. Date of Purchase will be Covered Under Warranty period. |
| Material | Steel |
| Digital Display | Yes |
| Other Convenience Features | Voltage :- 230 Volts, Noise level :- 39db, Capacity:- Jacket 3 + Pants 3 (jacket 5 + pant 2) |
| Other Features | Jetstream, Deodorizing filter, Heat Pump drying, Wrinkle care, Dehumidification |
| Dimension | Width- 44.5Height- 185cmDepth – 61.5Weight- 89kg |
| Qualities | Sanitize and refresh clothes everyday.Eliminates bacteria and viruses.Remove odour.Wrinkle careHeat Pump dryingDehumidificationSelf clean |
Buy the Samsung airdresser at most affordable range from online store. Kitchenzone provides you each and every detail. Visit the website for more information and buy it at a great discount.